WHERE to go - HOW to get there
Breakers is located on the corner of Mt. Alexander Road and Davies Street, Moonee Ponds (Melways reference: 28 J8). This is right near the big junction of Puckle St, Mt. Alexander Rd, Dean St, Pascoe Vale Rd, and Ascot Vale Road. In fact, if you're heading south along Mt. Alexander Rd, it is on the next corner on the left (or last corner on the right if heading north). If you're going in on public transport, there are a number of ways to get there. You can either catch the # 59 Airport West Tram from the City (Flinders/Elizabeth), which goes up Mt. Alexander Rd, or the # 82 Footscray-Moonee Ponds Tram if you're coming from the Western Suburbs. This starts at the corner of Leeds and Irving Streets, Footscray, and terminates at the corner of Ascot Vale Rd and Puckle St. (ie: the junction... then walk south down Mt. Alexander Rd a minute or so). For maps and more info on these and other options, including the many bus routes that pass through Moonee Ponds, check out www.victrip.com.au.
My preferred route is catching the Broadmeadows line train, since it is quick, and I get to grab a snack or coffee along Puckle St. It's only a few short stops, and the walk down to Breakers doesn't take that long at all. Below is a map showing just how easy it is to get there.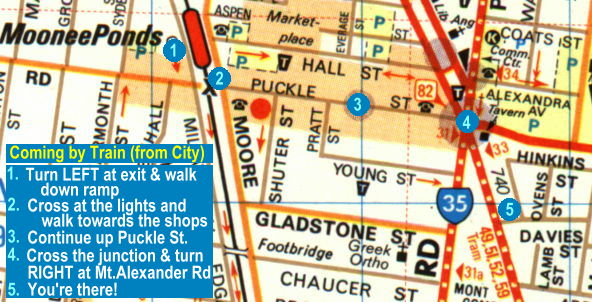 If you're driving, click here for a more detailed map, with some parking solutions.