| | |
| --- | --- |
| One rather unique and talented band from Melbourne is an outfit called Praetorian. "Melodic Death Metal" is one of those great amalgamations of differing styles that makes Metal so interesting today... yet it is surprisingly hard to define. I mean, any little change in sound or direction and - voila! - you have a new genre (yet again), so it is somewhat amazing that there are so many styles of "Melodic Death" - from bands that add guitar harmonies, or have both clean and brutal vocals, or use ambient keyboards, etc. | |
While I personally love many bands in all the different corners of this genre, many of the supposed "greats" and originators don't do too much for me at all. So if I was to say that Praetorian are as good as the bands coming from Sweden, I really don't feel I'd be saying much at all.
Praetorian are way more original than most of the Melodic Death coming from that part of the world, and even trademark aspects of this style of music are very much given the Praetorian work-over. While guitarists Ian and Jonathan deliver the dual vocals (which in itself is not that common), Jonathan's clean vocals are different to the usual sopranos brought in to contrast with the grim vocals. Even their guitar harmonies aren't straight out of the manual, and you can tell they work hard to deliver something unique and truly their own. And having someone like Ian - who has studied music full-time for years, and could be teaching it! - surely makes that task easier.
Having released their debut album "Threnody" in 2002, the guys are working on their next effort right now. I have three songs from their upcoming release, and I can tell you the news with these guys keeps getting better. Whatever preconceptions I had about what I would hear were blown straight out the window, as the demo CD showcases how far they can break the rules and come up with something not only immensely original, but also very listenable! It opens up with the rather progressive drumming of "Unknown" - a 7 min track that is dominated by Ian's rough vocals, with Jonno's softer bits coming in at just the right times. The keyboards certainly give character, and now that they have a new player in Beth, the guys won't have to rely on friends and session musos to complete the album.
"THRENODY" :
1. Soul Collector
2. Wide-eyed Death
3. All Alone
4. Ravenous
5. Harlequin Dreams
6. Incisions
7. Sarcophagus
8. Thylacine
9. Night
| | |
| --- | --- |
| | The next song "Wisdom" is yet another beast altogether, starting off with raw but undistorted guitar, before breaking into something quite frantic and almost symphonic. Use of acoustic guitar in certain bits adds a great touch, and while being quite heavy and energetic, this song is easy to tap your feet to. OK, so here and there your feet might get confused, as there are some cool progressive changes (but nothing as disorientating as your usual Progressive Metal of course!). |
The last song "Tunguska!" is a complex piece that has an eerie mood, made more prominent with the interplay between the two different vocalists. Steve's drumming is awesome yet again, showing that he can not only supply a fast and steady beat, but add character to it. And bassist Rick is certainly makes himself known, as he definitely can play with a lot of flair, and not just sit there banging a note to match the guitar chords.
So, while I loved "Threnody" and saw straight away that these guys have a future, I must say how amazed I am at how far they've come in the space of one album. I don't know about you, but I get pretty bored of bands who keep pumping out the same stuff, and I can tell you these guys are definitely not in that class! Those of you who haven't heard "Threnody" can hear some stuff at their official website, so make sure you check it out. Then you can either buy it through them online, or pick up a copy at their next gig. I thoroughly recommend "Soul Collector" and my personal favourite, "Wide-eyed Death" (which has a haunting interlude straight after the first verse/chorus, which isn't usually done). Those of you who already know their stuff, keep checking back for more info on their upcoming release!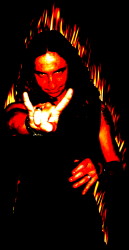 2003.11.30